CASD Foundation Receives Donation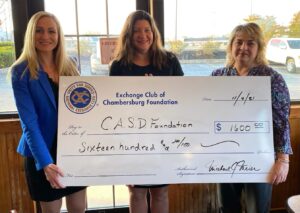 Jennifer Connolly, Treasurer of the Chambersburg Exchange Club Foundation, presents a check for $1,600 to Angie Lynch, CASD Foundation Director, and Katie Kough, CASD Foundation President.  This check is designated for the district program which gives CASD seniors who may not be financially able the opportunity to take college level classes while still in high school.  The Exchange Club supports the district initiative as part of its commitment to combat child abuse and neglect in our community.
Chambersburg Exchange Gives Donation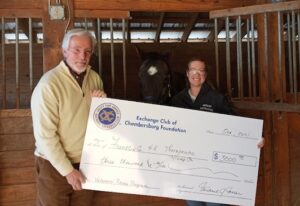 Exchange Club President Mike Meier is presenting a $3,000 check to Brittany Hassler, 4-H riding instructor for the Veterans' Therapeutic Riding Program, while one of the therapeutic horses tries to taste the donation.  This new program helps to integrate wounded veterans upon their return from deployment.  The Exchange Club proudly supports this initiative as one component of our community-wide mission to eliminate child abuse and neglect as well as to foster Americanism.